I have been told there's an old adage in football: defense wins championships. This must have some truth because it's all over the news how the Denver Broncos shut down Cam Newton and the Carolina Panthers. The Wall Street Journal reported the Denver Bronco's defense "Throttles the Panthers," and defense has been the prevailing word of the week.
I'm no stranger to competitive games, even though I'm not a die-hard football guy. But since I wrote about the Super bowl last week, I had to see what happened.
Denver showed the world why defense is so important to winning. Defense has one main job: to keep the other team from scoring. The Panthers had the best offense in the league. They lost. Denver Broncos, I've been told, had the very best offense in 2013, with Peyton Manning's passing yardage in the stratosphere. They lost—bad—against the league's #1 defense that year.
I have something called the "family financial principles": growth, income, and, protection. These three, when intertwined, form a shield like this: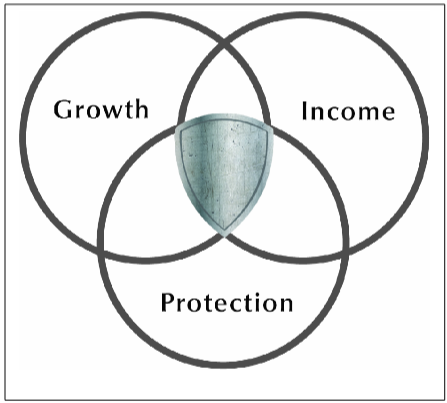 So all this talk of defense this week got me thinking about these foundational principles about money and the shield it forms. What do we want for our money? We want it grow in a protected environment so that we can enjoy the fruits of our hard work when we need it. We need cash for emergencies. We need income, preferably the steady kind, for retirement.
There's many ways to make money on money that's put into some sort of savings or investment vehicle. Investments are vehicles likes stocks and bonds. They create wealth, but as we have seen over and over since the market crash of 2008, the stock market is definitely not a protected environment. Bonds are supposed to be safer because they're tied to U.S. Treasury. However, in the past six months, CNN, Bankrate, and Marketwatch have all raised concerns about the safety of the bond market.
Protecting your money is all about defense. If you don't grow your money in a protected environment, then you run the risk that is keeping many Americans up at night, those who are retired or about to join those ranks. They worry about having enough money in retirement. If your money isn't protected, your income could be compromised.
So while growth and income are important, the third circle, protection, is the most important. If you don't have it, you can lose both growth and income. With it, the growth of your money isn't compromised and thus you don't have to worry so much about a steady income in retirement.
When you protect your money, you're defending it against loss, loss from market downturns or outright crashes; loss from too much tax exposure; loss from having to dip into market accounts at inopportune times when the market is down, thus compromising your account more than necessary; loss from having to use your savings for life's inevitable emergencies.
But there's something else about defense that the Denver Broncos can teach us. Mid first quarter, the Broncos strip sack Cam Newton. The ball rolls into the end zone and one of Denver's defensive ends pounces on the ball for a touchdown. The Panthers really never recovered. As I watched that play, I thought about what can happen when you protect your money well. You're making gains when you hae consistent growth—step by step forward. But when your money is also both protected and available for use, then you have an opportunity to invest it in something worthwhile when the opportunity arises. Let's say the house next door is worth $400,000. It forecloses for $60,000. Because you practiced good defense for your money, you have it. You buy the house, clean it up, and sell it for its full value. You've just made $360,000. That's a score! It happened because you practiced great defense for your money.
The Broncos winning the Superbowl was an amazing feat. Very few said it could be done. Most of Las Vegas gambled their money on the Panthers. Like in a stock market crash, they lost the money they bet. There were a few intrepid souls who did bet on the Broncos—precisely because they knew the power Denver's defense was capable of generating.
It's a lesson for the ages: do you bet on the big flashy numbers or do you put your money in the not-so-glitzy but oh-so-tried-and-true defenses that can get the job done? Those numbers could be passing or rushing yards, but they could also be the dazzling returns the stock market had been returning for the past couple of years. As we saw at the end of December, those dazzling numbers weren't anywhere to be seen.
But those who understand that money needs a strong defense and have acted accordingly—they didn't see their account balances drop. They won the game last year.
You, too, can win the money game with a good defense! Bronco fan, Panther fan, or just love a good game? I would love to hear your comments on all this.